Greg Rehm, Owner & General Contractor, CGR, CAPS, CGP
Greg founded Liberty Hill Construction in 1998. Prior to starting his own company, Greg worked as a lead carpenter in Bedford, NH. Greg is an active member of the National Association of Home Builders (NAHB) and the NH Home Builders Association (NHHBA).
Greg and Liberty Hill Construction maintain a commitment to give back to their community and beyond. Greg currently sits on the Bedford Education Foundation Board and has been a member of The Building on Hope committee since 2011. Greg has volunteered his time with CASA, The Bedford Farmer's Market, helped build the Ann DeNicola Memorial Playground, worked on the Extreme Makeover home in Manchester, the Street Family Project in Bedford, Peter Woodbury Community School Yard, and developed a community service project that dismantles, transports and reassembles play sets for deserving families with children. Liberty Hill Construction continues its support of many organizations and events such as; Red Storm Robotics, Bedford High School Booster club, Mckelvie Move-A-Thon, Bedford Womenade, Witch Way 5K, Bedford Police Union, CASA Snowfest and various local sports teams.
Greg graduated from Hobart College, Geneva, NY in 1992 with a BA in Environmental Studies and Biology. His love of the outdoors and for gardening kept him in the Finger Lakes region of New York where he became an assistant winemaker at a vineyard prior to moving to New Hampshire in 1994.
Greg currently resides in Bedford, New Hampshire with his wife and two daughters. Greg enjoys travel, hiking, fishing, camping, skiing and gardening when he is not at the job site.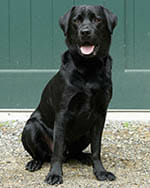 Greg's Fun Fact: Greg has climbed all of the 4,000-foot peaks in New Hampshire!
Bowman, Office Friend
Bowman celebrated his two year birthday in 2019. He is an enthusiastic and friendly English lab who loves people, swimming and going for hikes. When not at the office he can be found napping at various locations and making the best of everyday. Come by the office and you meet him.
Bowman's Fun Fact: Bowman was named after an Island on Squam Lake and is working on finishing his NH48 4000 footers.
Pete Sapounas, Production Coordinator
Since coming to Liberty Hill Construction in 2006, Pete understands the remodeling business from the foundation up. He brings accuracy and insight to his current position as Production Coordinator, thanks to both his hands-on experience in the field and his expertise in adapting to the evolving needs of each individual project. While frequently found at his desk in the Carriage House, Pete remains an integral part of the field team, fostering the strong client relationships that are the Liberty Hill Construction trademark. He is always ready to share a laugh and enjoys spending time outdoors camping and fishing with his wife Fallyn and sons Domenick and Alexander.
Pete's Fun Fact: Pete can walk on his hands!
Mark Fournier, Business Development Manager
With over 15 years in the remodeling industry, Mark brings a wealth of design/build experience to the Liberty Hill Construction team. He has a keen understanding of the complexity and myriad details of each project, and provides solutions in keeping with Liberty Hill's award-winning excellence. After the sale, from project conception through completion, Mark makes himself available as a continuing resource for our customers' needs and concerns. Mark is an experienced tournament bass fisherman and ice hockey enthusiast. It's pretty safe to say that if he's not working or spending time with his wife, you can find Mark fishing somewhere in the lakes region. He lives in Londonderry, NH with his wife and best friend, Marybeth. They love to explore Boston, take trips, and bring their French Bulldog, Bluesy everywhere they go!
Mark's Fun Fact: Mark fished in the 2018 B.A.S.S. National Championship in Florence, AL as New Hampshire's Top Pro Angler.
Ellen Bayrouty, Marketing and Administrative Assistant
Ellen is a graduate of Keene State College with a degree in Management, and brings energy and enthusiasm to her role supporting our communications and social media outreach programs. She is particularly drawn to the creative process in marketing, and researches ideas to inform and inspire our customers. Ellen also provides administrative support and contributes to the planning the company's special events. She is returning to school to study for her certificate in graphic design, and enjoys crafting and playing cards in her free time. Ellen recently got married and lives in Manchester with her husband Dan.
Ellen's Fun Fact: "I have one pointy ear and one rounded one, so kids think I'm part elf and know Santa!"
Joanne DeStefano, Executive Office Administrator
Joanne comes to LHC with 16 yrs of construction experience; office management & staff support.  She enjoys helping her coworkers to ensure each project runs smoothly. She lives in Londonderry with her husband, John.  In her spare time, she enjoys spending time in the lakes region kayaking and, gardening & making stained glass.
Joanne's Fun Fact:  As a young child Joanne's nephew couldn't say JoJo & therefore she received the nickname "JuJu". Forty years later, you can still hear one of her siblings call her "Ju".
Brad Desjardins, Lead Carpenter
Brad brings over 21 years of carpentry and additional diverse construction experience to the team. He enjoys camping, hiking and fishing when he is not building things, and likes to tinker with all things mechanical. He lives in Candia with his wife Michelle and children John and Haley.
Jimmy Lyons, Carpenter's Assisstant

Jimmy came to Liberty Hill almost two years ago, and he was an immediate fit with our team. As our carpenter's assistant Jimmy supports our project managers and lead carpenter with all of our day-today tasks. From project setup through post project cleanup Jimmy has been an extremely valuable asset each and every day. Our customers have always appreciated his willingness to help in any way possible, and quite honestly, he's just a great person to have as part of our team.
Jimmy is a true all-season outdoorsman. From turkey hunting, duck hunting, fishing, hiking, he does it all. Conservation and responsible harvesting are very important in preserving wildlife populations, which Jimmy is always happy to talk about. He lives in Concord, NH with his girlfriend Taylor. Together, they enjoy many of the same outdoor activities, and it's no secret that Taylor makes the best dessert treats for the team!
What is Design/Build?
Design-Build is another contracting method that is gaining popularity, as it can provide significant cost and time savings for owners. Whereas the traditional Design-Bid-Build process separates design and construction, Design-Build provides a single point of responsibility for an entire project. Instead of the homeowner contracting separately with the architect or designer and the contractor, Design-Build typically ties the architect or designer contractually to the contractor. The contractor then enters into a Design-Build agreement with the owner, so that the homeowner deals with only a single point of contact.
How Design-Build Works
Here's how it works at Liberty Hill Construction: we select an architect or designer for a specific project and place them under contract as part of our design-build team. We then work with the owner to plan, design and construct the project to meet the specific design, budget and scheduling goals, within the constraints and demands of the project.
Similar to Construction Manager at Risk, Design-Build allows for improved coordination between the designer, contractor and trade partners, more efficient and buildable designs, advantageous economies of time and cost and a coordinated team approach.
We have experienced great success using this process and our customers have been pleased with the results.
Committed to Ongoing Education

As Liberty Hill Construction continues to grow and take on new projects, Greg and all members of the team continue to keep abreast of latest industry trends and products. Our field staff regularly attends The Journal of Light Construction (JLC) Residential Trade Show in Providence, Rhode Island. In addition to learning about the latest building materials and techniques, our team has also taken classes in business management skills to achieve cost-saving efficiencies on the office side as well.
In 2008, Greg became one of the first Certified Green Professionals in the state. The Certified Green Professional (CGP) designation identifies Greg as a contractor with knowledge of the best strategies for incorporating green building principles into homes. The CGP program is administered by the National Association of Home Builders (NAHB) University of Housing and sponsored locally by the Home Builders and Remodeler's Association of New Hampshire. As the company continues to grow, complete more projects and expand, it has been important to recognize customer needs and meet them.

Most recently Greg completed the requirements to become a Certified Renovation, Repair and Painting (RRP) contractor by the EPA. Common renovation activities like sanding, cutting, and demolition can create hazardous lead dust and chips by disturbing lead-based paint, which can be harmful to adults and children.
To protect against this risk, on April 22, 2008, EPA issued a rule requiring the use of lead-safe practices and other actions aimed at preventing lead poisoning. Under the rule, beginning April 22, 2010, contractors performing renovation, repair and painting projects that disturb lead-based paint in homes, child care facilities, and schools built before 1978 must be certified and must follow specific work practices to prevent lead contamination. EPA requires that firms performing renovation, repair, and painting projects that disturb lead-based paint in pre-1978 homes, child care facilities and schools be certified by EPA and that they use certified renovators who are trained by EPA-approved training providers to follow lead-safe work practices. Individuals can become certified renovators by taking an eight-hour training course from an EPA-approved training provider. Liberty Hill Construction, LLC looks forward to working with you on your project and continuing to build a solid foundation for company growth.

The National Association of Home Builders, in partnership with the AARP and NAHB Research Center, created the CAPS program, which includes training and education on the technical, business management and customer service skills essential to compete in the fastest-growing segment of the residential remodeling industry — home modifications for aging-in-place. CAPS graduates include remodelers, builders, designers, architects, occupational therapists and others who help homeowners remain in their homes safely, independently and comfortably as they age. In three days of coursework, the CAPS curriculum incorporates market demographics, communication techniques, marketing, common barriers and solutions, building codes and standards, product ideas and resources and business management.
CAPS program graduates are required to maintain their designation by attending continuing education programs and/or participating in community service projects.

The CGR designation recognizes those remodelers who demonstrate exceptional business integrity, technical competence and a solid track record of customer satisfaction. To earn the CGR, a remodeler must complete a series of industry-specific education courses, provide letters of recommendation, submit proof of licensing and insurance if required by the local jurisdiction and adhere to a strict Code of Ethics. The CGR designation stands for professionalism, experience and a commitment to quality.

Certified Green Professional (CGP) The Certified Green Professional™ designation recognizes builders, remodelers and other industry professionals who incorporate green and sustainable building principles into homes— without driving up the cost of construction. The required courses provide a solid background in green building methods, as well as the tools to reach consumers, from the organization leading the charge to provide market-driven green building solutions to the home building industry. Greg Rehm was one of the first CGP Remodelers in New Hampshire!